Beeswax goods & candle making demonstrations
We feel strongly that the only true way to present an artisans craft is to demonstrate that craft and educate the patrons about it. Our candles are far superior to any bought in big retail chains. They do not smoke drip or soot and best of all cost less. This short selection of information is fine at the sales counter, but gives very little explanation as to why these things are so.
By demonstrating our work, we take the time to not only show how, but explain why. We explain the history of chandlery, our family heritage and wicking, how we do it now compared to then and everything we can say about beeswax and why it is the only true candle wax.
We demonstrate every aspect of chandlery, making balms & salves during the day at each of the renaissance festivals we showcase. We add to our demonstrations by custom making candles and other select items in the shop as part of the show.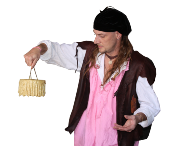 We demonstrate through most of our day 'on the fly', providing information on what we are doing and interacting with the patrons to avoid being repetitious. Custom candle making in the demonstration window is part of our daily presentation.We believe that demonstrations are also a necessary attraction for artisan shows, especially renaissance festivals. Our goal is to not only sell candles, but to make a lasting impression on the patrons which they return to see next year, and remember their experience when burning their candle at home.