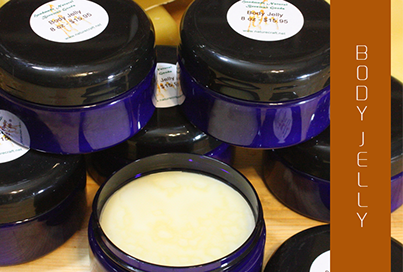 Beeswax Body Jelly
This is our all natural version of petroleum jelly and baby oil/mineral oil all in one. A combination of food grade coconut oils, shea butter and beeswax, this jelly is odorless, colorless and completely all natural. It is safe anywhere on the body you would use Vaseline or baby oil with no petroleum byproducts or artificial ingredients. Infants to college, teens to elder years, there is no one who will not have multiple uses for this wonderful moisturizer.
Dragon Jelly & Mint Jelly are the same as the body jelly with our Dragon's Breath and Dragon Mint essential oil formula added.
A few recommendations for this salve's use include:
• After showers: When you exit the shower while your body is still wet before reaching for the towel, reach for this jelly, just a dab, rub it all over your body then towel dry. You will be amazed at how much better this feels than any mineral oil product.
• Cracked Skin: Use on cracked cuticles, heels, rashes, ashy elbows or knees or any other patch of rough or dry skin.
• Moisturizing and prevention: Put it on a few minutes before getting dressed, or applying cosmetics, lotions, or tanning oils, for lasting soft skin all day. If you see us at one of our shops, ask us for a demo or just try the tester. Simply open the jar, barely skim the surface of the body jelly with one or two fingers, then rub it into the back of your hand. Divine joy follows. This product works with all of our other products such as our lotion bars, body butters, soaps, salves and more.
Dragon Jelly (tea tree, lavender, lime fruit & patchouli) - Tea tree is a natural antiseptic, lavender and lime are antioxidants, while patchouli is a great skin conditioner. This combination makes it the absolute best jelly for deep serious moisturizing issues. Customers with eczema, psoriasis, cracked heels or cuticles return for this formula again and again.
Mint Jelly (tea tree & peppermint, antiseptic properties and soothing mint) - Tea tree is a natural antiseptic, and the mint is an antioxidant and soothingly cool. This is a perfect massage jelly.