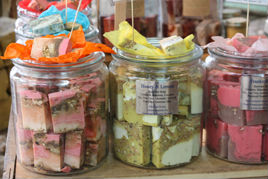 Our beeswax soaps are our own blended soap with beeswax, shea butter and goat's milk as the emulsifiers. They are made with many different natural fruits & oils. Every soap contains beeswax, shea butter, goats milk & oatmeal, plus tea tree, lavender, lime fruit & patchouli essential oils for their cleansing, fungicidal, anti-septic, anti-bacterial, astringent & infection preventing qualities. These are all in addition to the fruit & essential oils used to bring our soap its dominant fragrance.
Cosmetically, we play with our soaps; being handmade and free poured, every soap looks a little different from the last batch but the ingredients are the same in every batch.
Our soaps are a decadence item. We designed the best quality soap we could make without regard for the price. Designed to leave your skin refreshed & clean, they lather in hard and soft water. They are designed to soften the skin rather than dry out, and you will never want to get out of the bath.